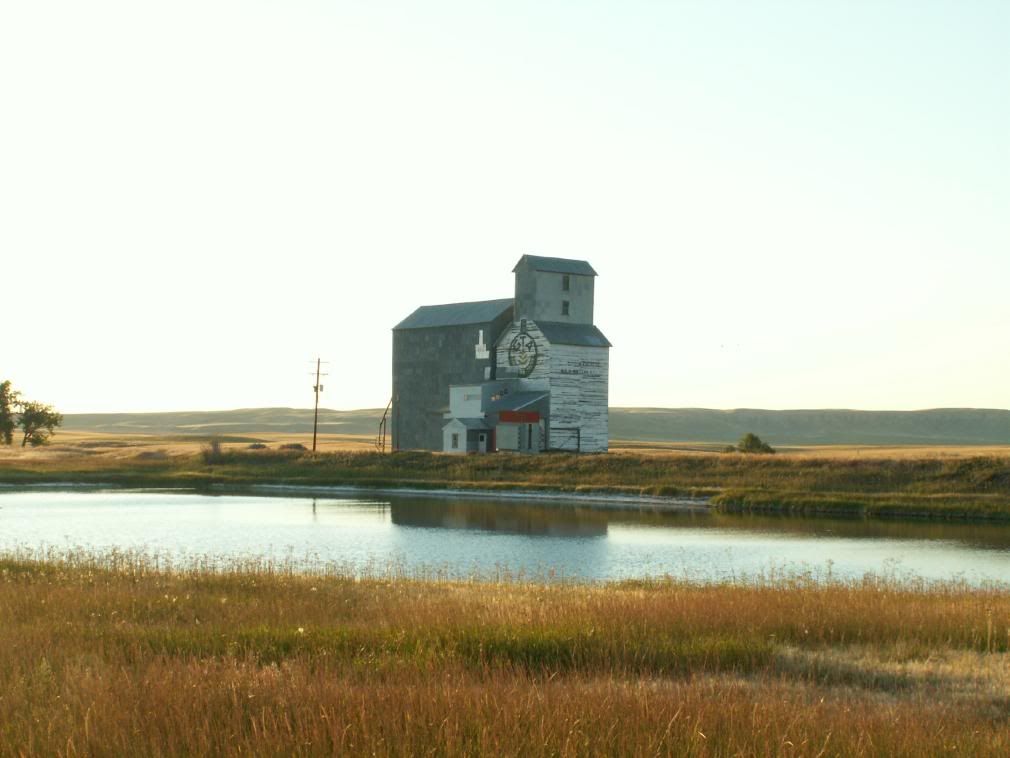 In August B, myself, and my dad left Minneapolis Minnesota and headed west. It took us 5 days and 4 nights to cross the Northern tier in a Dodge ram pickup with a camper attached. B is an amazing traveller and didn't put up any fuss. He loved looking out the window at the scenery and pointing out every piece of heavy machinery or truck that came along. My father is a farmer and was in the market for a new tractor, so, on the way we stopped to look at several, one of which he eventually purchased. This meant, however, that we did not take the usual route along I90 or I94.
 Instead we headed north the first night to look at a tractor near Thief River Falls, MN. From there we continued West, eventually hooking up with Hiway 2, the "Highline" as the locals call it.
We headed through the flat expanse of prairie that is North Dakota and passed through the geographic center of North America at Rugby, North Dakota. There is very
 little to see but we managed to see enough interesting stuff to make it worthwhile. This included a 6 foot long  bull snake at a rest stop in North Dakota (I'm not kidding, 6 feet is a conservative estimate. He was as big around as my arm at his thickest point). He was nice enough to stay above ground for about 15 minutes while we watched him. Berlyn loved chasing him around and trying to get a pet in until the snake had enough and dove down a ground squirrel hole to get away.
We stayed in campgrounds full of oilmen outside of Williston and heard all about the oil boom happening there. We camped in one campground where you were not supposed to leave the paved areas due to

insane

amounts of poison ivy. We even camped behind a Case IH tractor dealership in Montana.

We saw it all, from the flat stuff, as Greg Brown would say, to the mountains and everything in between. We even saw some art on the way southwest to cross the Rockies on I90
(P.S. - Lincoln, Montana not only has statues of slouching roosters, they have phenomenal huckleberry shakes at the local 50's diner)

Eventually we made it into Idaho, down I90 through Kellogg, past Cataldo Mission newly made famous by Josh Ritters song Wings, through Spokane and to our new home on the Palouse. You can take a gander at the pictures and videos from the trip here if you are interested here.